Hawai`i Sittings

The Hawai'i Island sangha meets in North Kohala Sundays at 4:00 pm: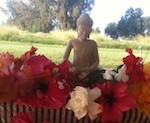 4:00 – 4:45 – Silent Sitting Meditation
4:45 – 5:30 (only when a teacher is on island) – Dhamma talk, questions and answers.
Everyone Welcome – No charge – Dana for teachers accepted – Please arrive on time.
Bring a cushion if desirable. Chairs are available.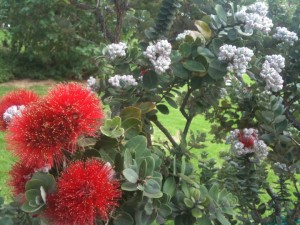 From either Waimea (Mountain Road) or Kona (Queen Ka`ahumanu Hwy.), reach Akoni Pule Highway (Hwy 270), and drive in the direction of Pololu look-out. Go through Kapa`au town, past the statue of King Kamehameha. Pretty soon you will pass the Hongwanji Mission on your right and dip into a gulch (Halawa) and back out again. On your right you will pass the Chinese Tong Wo Society temple followed by the Rankin Gallery in the Wo On Storefront. Begin looking for three signs: "No Passing Zone" and "Halawa Catholic Cemetery" on your left (ocean side) and "one-lane bridge" sign on the right (mountain side), turn left into the dirt road directly at those signs. (The left is before you pass the 26 mile marker and before the one-lane bridge. If you cross the one-lane bridge you have gone too far).
At the T with several gates, turn left onto Pratt Rd. Stay on this uneven road through a tunnel of trees until you go through an open gate.(You will pass the entrances to HIP Agriculture and Inhabit Sanctuary on your right). Sometimes the gate remains closed until about a quarter to 4, so if you arrive early, just wait for one of the local Sangha to unlock it. Continue to drive along the tunnel of trees until you can take a right through Vipassana Hawai`i's gate (on which we have a sign) and follow the mowed path to our sitting area.

Vipassana Hawai'i O'ahu sangha meets in Honolulu Sundays at 5:00 pm: 
For driving directions please view this map.
5:00 – 5:45 – Silent Sitting Meditation
5:45 – 6:30 – Dhamma talk, sharing reflections and practice experiences, questions, and answers.
Weekly mindfulness meditation practice for beginners through seasoned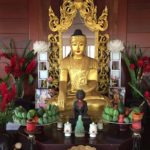 practitioners. This session is free and open to the public and no advanced registration is needed. Voluntary donations to the temple will be gratefully accepted.
Our location for the Bodhi Tree is 654 North Judd Street, Honolulu. Please note there are several flights of stairs up to the facility. For driving directions please view this map.
Sunday Sitting Practice Leaders at the Bodhi Tree:
June 2019
6/2 – Matt Hawkins
6/9 – Quynh Nguyen: Dukkha
6/16 – Niki Miller: Collecting the Mind
6/23 –
6/31 – Thanh Huynh
July 2019
7/7 – Harry Palmer
7/14 –
7/21 – Matt Hawkins
7/28 – Grahame White
Other Vipassana Sittings on O'ahu: 
654A North Judd Street
Honolulu, HI (96817)
Wednesday 6:30 – 8 p.m.   Led by Joe Bright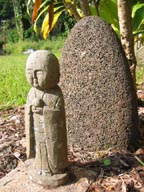 Fridays from 9am-noon
Please note, this sitting period is self-directed with no instructions or talks and is intended for experienced practitioners.
On the final Friday of each month, the group works in the Zen Center garden in thanks for the generous use of the space.
Please email Niki Miller with any questions
..
Mu-Ryang Sa  Temple
2420 Halelaau Place
Every Saturday 4-6pm
Monthly half-day retreats
Led by: Gregory Pai, Ph.D.
Email Greg Pai for more information.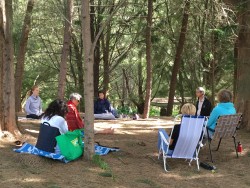 Thanh and Xuan Huynh lead weekend retreats once a month at the outdoor park on
Hawaii Loa Ridge. The retreat is held on both Saturday and Sunday during the day, 10 a.m. to 3 p.m., every second weekend of the month (except during formal retreat time).
Thursday 6:00 PM to 8:30 PM
The weekly meetings are temporally on hold, as they are moving!
Led by Tom Marx
Kailua Insight Meditation Group
The Kailua Insight Meditation Group (KIMG) meets Wednesday evenings from 6:30 pm to 7:30 pm at the Kailua Hongwanji Buddhist Temple, located at 268 A Kuulei Road in Kailua, at the end of a small lane behind the 7-11 store, across the street from the Kailua Library.
E-mail Niki Miller for more information