June 2021 Myanmar Update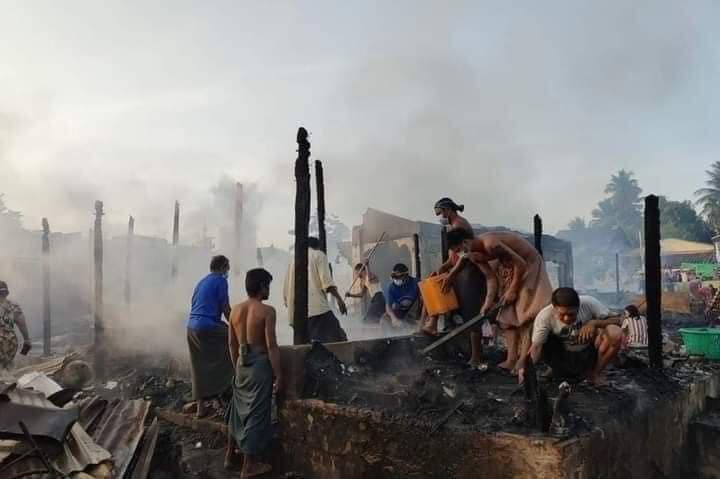 Dear Friends,
When we started the MettaDana Project 27 years ago (when the previous Junta was in power), one goal was to sustain our relationships with people we trusted and cared about over the long-term. With your support, over the years we have offered food, medicine, educational materials, school-buildings, and all forms of dana for monastics, laypeople, children, schoolteachers, college-bound youth, and various other members of the local community.
In the context of the current regime, we are extremely fortunate to be able to work with colleagues we have collaborated with over many years who have long-term connections within Burma. We believe our work with these trusted friends brings a much-needed and sustained hope within an increasingly difficult situation. Sadly, in their desperation, many people who were committed to the non–violent civil disobedience movement are now shifting to the strategies of violence. In the two interviews we share below, we see that there are many people of all ages who are holding up their commitment to non-violence. We need to help support their indomitable spirits and project their voices as loudly and broadly as possible.
Our elder colleagues in Burma are completely dedicated to helping the Burmese people sustain their commitment to the non-violent movement. Not only that, they have designed programs to train youth to become non-violent leaders in their communities.
It is our responsibility to help make these programs possible.
Many people who care deeply about Burma, feel a kind of helplessness in the face of so much suffering right now. We can help. We feel so grateful for these colleagues who have a clear long-term vision and strategy that sparks hope in the heart of all of us.
Because the situation in Myanmar continues to decline, in many places throughout the country-, simmering tensions have boiled over into expressions of violence. This has led lead to increased death, insecurity, and more and more people displaced from their homes and villages.
We are responding to what is needed now.
Here is an email sent to us recently from our primary contact for the work that our MettaDana Project is funding.:
Greetings from Myanmar! I am sad to inform you that our Kayah (Karenni) state was under attack, and many townships were fired on by the military forces (Tamadaw).
The freedom fighters and cease fire groups established an alliance of forces and, fighting in Kayah state, they destroyed police stations, military checkpoints and killed and arrested many police and soldiers.
The Myanmar military regime also counter-attacked and thousands of civilians became the Internally Displaced Person/ Refugees in Kayah state.
On 23, May 2021, The Kayah state-based battalion 250, fired about 20 artillery shells into the villages and, Catholic church in Kayah (Karenni) state and killed 4 people including children. 8 people got seriously injured.Currently, fighting in Kayah state everywhere and civilians have been moving to safe areas and it is very difficult to survive.
Our students were so afraid and some of them went back to their native villages. The military is shooting in the city and villagers have left from the villages and cities. Internally Displaced Persons reach over fifty thousand now. We need to raise the funding for many activities and, especially, we would like to support youth and some funding for emergency release.
We are trying to help local people and we are so concerned about upcoming fights in the near future. I am also sending a brief report about your supported projects in Myanmar. Do not hesitate to contact me any time if. you need more information about our projects as well as the political situation in Myanmar. Thank you again for generously supporting our people.
The support of our own community over the past few months for the cause of Burmese Democracy has been astounding! Your donations have helped contribute to:
1) ACCOMMODATION (safe houses for activists, journalists, and Internally Displaced Persons (IDPs) who must hide from government persecution)
2) TRANSPORTATION for these same beneficiaries.
3) FOOD ALLOWANCES for these same beneficiaries.
4) MATERIALS (phones, cameras, and IT tools) for activists and journalists.
5) DOCUMENTS (IDs or passport to help facilitate safe movement and migration)
6) LEGAL SERVICES and PRISON VISITS (We have been providing support to activists – especially youth and labor rights activists – who are in police stations and prisons. Some families are very poor and cannot provide even basic food. We also assist in communication between inmates and their families and lawyers).
7) DIGITAL MEDIA PRODUCTION (Our team has already produced three short documentary films to help inform the world in a deeper way about what is happening now in Myanmar)
PLEASE TAKE THE TIME TO WATCH AND SHARE THESE TWO NEW VIDEOS PRODUCED WITH YOUR SUPPORT BY OUR COLLEAGUES ON THE GROUND IN MYANMAR:
*
NEXT STEPS
During the next month, our colleagues plan to begin a new INTENSIVE INTERNSHIP FOR YOUTH as part of this project with the purpose of equipping college-aged leaders with necessary skills and knowledge to raise safe migration awareness, democracy and human rights in the respective communities. They will carry out this activity in Kayah State, Tanintharyi Region, and Yangon Region where our FED offices are located. The goals of this program are to:
EDUCATE Myanmar people in Myanmar about the rights of individuals (human rights, women's rights, children's rights, labor rights) and how to protect themselves from abuses that are inherent in a non-democratic society.
ADVOCATE for migrants whose rights are abused in both Myanmar and Thailand.
DOCUMENT human rights abuses against Burmese people in Burma and Thailand.
TRAIN a new generation of Burmese leaders and community activists.
PROVIDE a range of services for refugees and IDP (Internally Displaced Persons) in Myanmar and near the borders.
Please download the full program report and proposal here
Thank you for taking the time to engage with this material and to consider continuing to support the ongoing efforts of the democracy movement in Burma. The situation is critical and this work will not succeed without the financial support of the international community.
Thank you for helping protect the goodness of the country that has done so much to protect the goodness of the Dhamma teachings that we hold so dearly.

with metta
The Vipassana Hawaii Team