Please join Vipassana Hawai'i Teacher Grahame White for our weekly sitting and Dhamma talk. Grahame will be here teaching the retreat this weekend and next week. He has kindly offered to give the Dhamma talk this Sunday, April 26th.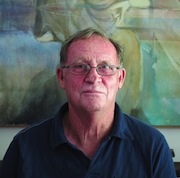 Sunday, April 26,  2015
Sitting with Grahame White
5 – 6:30 pm: Sitting (45 minutes) followed by Dhamma talk
Chan Khong Buddhist Temple at 1105 Hind Iuka Drive in Aina Haina.
Grahame White has been involved in Buddhist meditation practice for over 40 years. He began his study in England in 1969 before being ordained as a Buddhist monk for one year in Bodh Gaya, India in 1971. He took a primary role in the establishment of Vipassana meditation in the tradition of Mahasi Sayadaw in Australia and co-founded the Blue Mountains Insight Meditation Center outside Sydney. He has helped pioneer a workshop format that enhances the transfer of mindfulness from the formal sitting practice into daily life. Grahame teaches a classical tradition of insight meditation with a relaxed, accessible style.
Dana for the teacher and temple is welcome.
We look forward to seeing you!