The Legacy of Sayadaw U Lakkhana ~ MettaDana at 20 years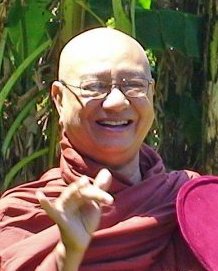 Dear Friends,
As you likely know, Sayadaw U Lakkhana, abbot of the Kyaswa Monastery and compassionate inspiration for the MettaDana project passed away earlier this spring. Sayadaw's death inspired the full range of emotions for all of us involved in these projects in Burma – grief at our loss, appreciation for all he offered us over the years, joy for the goodness that he shared with so many, and concern for the future of Wachet village, for which he was a major benefactor.
Before he died, Sayadaw exhorted us to continue the Kyaswa retreat at the monastery and continue to endeavor in support of his vision for ongoing humanitarian work in the village of Wachet and the surrounding region. We promised to continue the retreat and to honor and support his good works in Wachet and beyond, inspired by a deep motivation to keep his vision for the Kyaswa retreat and the MettaDana work alive.
Today, we are very pleased to announce that, in accordance with Sayadaw U Lakkhana's wishes, Sayadaw-gyi U Panditabhivamsa has chosen a new teacher to carry on the important role of the monastic teacher for the 2015 Kyaswa Fusion Retreat: Venerable Sayadaw U Pannananda, Kammatthanacariya (meditation teacher) at the Malaysian Buddhist Meditation Centre in Penang, will teach in conjunction with our western teachers Steven Smith and Michele McDonald this coming January at the Kyaswa Monastery in the village of Wachet, in the Sagaing Hills of Burma. 
Sayadaw U Pannananda has taught for many years under the guidance of Sayadaw-gyi U Pandita and other venerables in Burma, Singapore, and Malaysia. His full bio can be read here. We are honored to have this opportunity to collaborate with him and look forward to a long and beneficial relationship. If you have any questions about the Kyaswa retreat, please email the registrar here. For more information and to register, click here.
In honor of Sayadaw U Lakkhana and in celebration of the 20th year of the MettaDana project we want to invite you to be a part of the profound generosity that has supported Sayadaw's vision over the years, and that will allow it to continue to thrive. In addition to our annual budget of $20,000, we are trying to raise an additional $14,000 for this coming year's projects that will ensure the sustainability of Kyaswa retreat and MettaDana's work in Wachet for many years to come. Here's how this new financial goal break's down:
Sayadaw U Saddhamma, who has inherited the role of abbot at Kyaswa, has asked us to take increased responsibility over the retreat area of the monastery. This includes building a new storage area for our supplies and making various improvements to the grounds, kutis, and meditation hall. Our friends in Wachet expect these improvements to cost $10,000. This new responsibility also includes the possibility of additional "fusion" style programming at Kyaswa, which we are excited about exploring for the future.
For the past several years, Sayadaw U Lakkhana has invited our yogis to participate in a wonderful give-away ceremony he held for village elders in Wachet.  Blankets, clothing, food, and other necessities were joyously given to all the villagers over 80 years old. MettaDana is hoping to raise $2,000 for this as part of our budget for this year and far into the future.
Alongside these changes, our local administrator U Thanh Htun will no longer be paid by the Wachet Hospital for his MettaDana work and we will need to pay him a monthly stipend for his continual work on our behalf throughout the year, amounting to $2,000.
All of our MettaDana work – with the schools, the hospital, and the nunneries – will continue with vibrancy and we are deeply hopeful to be able to expand the impact of Kyaswa Sayadaw's metta and dana through our works in the years to come.
The most venerable Sayadaw U Lakkhana was an important teacher, collaborator, and friend and we will miss him very dearly. He offered a uniquely powerful voice of Dhamma rooted in kindness and compassion. His impacts on the world were many. We are profoundly grateful to him for the consistent spirit of generosity and kindness that he brought to all of his teachings.
Please join us in helping keep this work alive and to fulfill the vision that Sayadaw himself had for our friendship and collaboration. Dana is the fundamental driving force of all of these good works and good deeds and we hope you can place yourself fully in the folds of this new effort. All of our gratitude for Sayadaw's many offerings should be enough to inspire a joyful giving back to the place where so many of us have reaped such incalculable benefit of heart and mind. For the important work of the year to come and the long-term sustainability of MettaDana, please give as generously as you can.
~ The Kyaswa retreat and MettaDana team