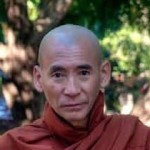 We are very happy new announce a retreat this January with Sayadaw U Thuzana, abbot of Tathagata Meditation Center (TMC) in San Jose, CA. Sayadaw has offered retreats in Hawai'i for the past few years and we are immensely grateful that he has offered to return!
The retreat will be held from January 13-20, 2015 at the Palolo Zen Center in Honolulu, HI.
Click here for more information and to register!