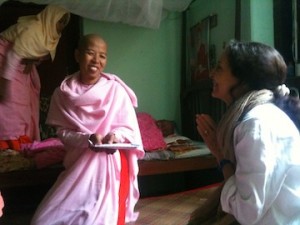 We are republishing a letter from Rebecca Bradshaw, Guiding teacher, Pioneer Valley Insight Meditation Center, which we first posted October 16, 2013. Michele will be in retreat until mid-April. 
Dear Friends: Our wonderful teacher Michele McDonald is taking the next six months for an intensive period of retreat in an effort to renew and deepen her practice. Michele has guided many of us with wisdom and great love for a long time and hasn't managed to arrange a retreat of this length for herself in almost 30 years! It is something she has aspired to do since she first began practicing. We now have a chance to support her in this endeavor. Since she will have no income during this time, each and every donation from us will support her to deepen her practice and rejuvenate her body. I hope you will join me in expressing gratitude by making whatever contribution you can, knowing that not only will you be supporting Michele directly, you will also be contributing to the continuation of the Dhamma in all of her future teaching. ~ Rebecca Bradshaw, Pioneer Valley Insight Meditation Center.
Checks can be sent to Vipassana Hawai'i, earmarked for Michele, c/o PO Box 551681, Kapa'au, Hawai'i 96755, or you may make an online donation.